Product Launch Type 2: To drive sales.
Product Launch is also a type of event that can boost your product sales. Other type of events that you might use to gain the same results are:
1. Webinars
One of the main tools in SparkToro marketing arsenal — online events. Rand hosts "Office Hours" — online webinars almost weekly.
Topics he discusses vary from "How to arrange an efficient PR campaign" to "How to increase cold outreach email open rate to almost 100%". The point is that his tool — SparkToro — helps with all these tasks.
During the webinar he demonstrates how to use SparkToro to achieve the goals. Every webinar attracts up to 1K viewers. Every webinar generates over 500 posts on social media where people share gained knowledge and mention the product.
Every webinar generates up to 10 articles and blog posts where SparkToro is mentioned.
Also, to register one has to leave their email address — this way, webinars become not only the source for instant purchases. But they also send more people into SparkToro marketing funnel.
2. Book launches
This, in turn, widened her audience and added recognition to Geocodio brand. Michele is active on Twitter and she discussed a lot the launch of her book on social media.
Her tweets lead to more engagement, more followers and eventually — to more customers for her core business.
This no-code development agency has established a smart marketing workflow due to their Head of Marketing Lisa Dziuba.
Lisa was co-founder of Flowless, and has a strong following base on Twitter, LinkedIn and Product Hunt. After being hired as a Head of Marketing in WeLoveNocode Lisa came up with the following funnel:
She launches a free info-product on Product Hunt and on Twitter (for example, a book on marketing).
To get a free product users have to leave their email
In a week an email is dropped into a user's mailbox offering a free consultancy call.
Product launch itself, no matter what platform you're using, can bring in great results if you choose a right platform. This is how it happened with TweetHunter.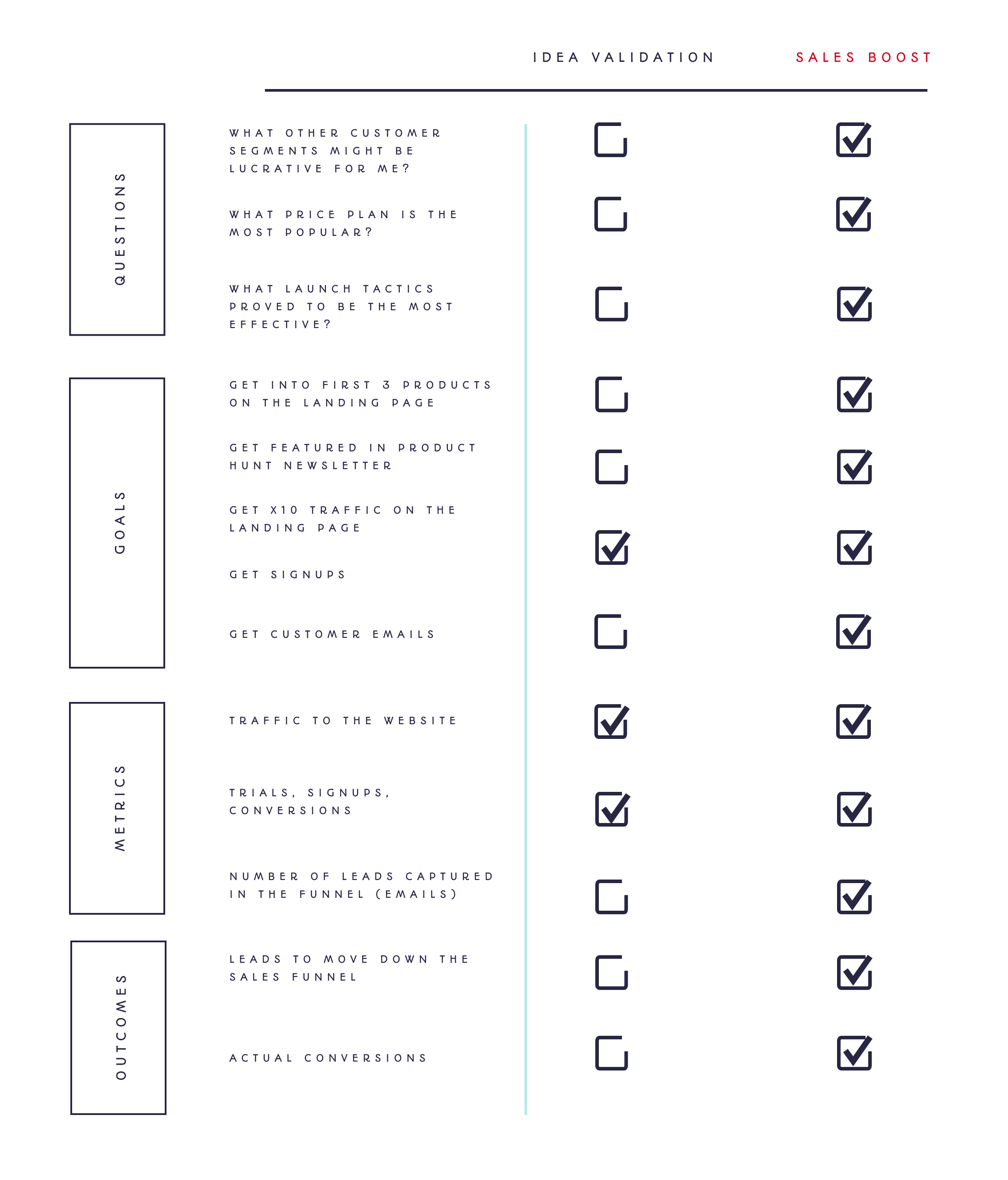 Learn from other founders: launch guides
Firelab: Product Hunt Launch

In July 2021, Kyle Gawley, a founder of

Gravity

— a boilerplate for Node.js apps — launched his side-project

Firelab

(a service for automated app tests) on Product Hunt. The product made it to the first page of product Hunt and got featured in two newsletters. That is what Kyle did:

Hired Louis Kender to design a new logo for Firelab.

Created a promo video. 100% elf-made in 30 minutes using keynote

 

Wrote the copy for Product Hunt

Arranged a 50% discount for three months for Product Hunt users

Posted a countdown image on Twitter every day long with what he achieved that day for prep

Published a blog post about the launch

Checked and double-checked the landing page.

Launch day required a lot of energy for direct outreach and hammering out constant tweets on Twitter. Pinned the launch announcement tweet to the Twitter profile.

Emailed Gravity users with the Product Hunt link and links to share on Twitter, Facebook and LinkedIn included in the email to make it easy for people to share.

DM friends and asked to support the launch.

Updated pre-launch blog post with links to Product Hunt

Shared the link on LinkedIn, Reddit and Gravity slack channel

Every hour shared constant updates showing signups, current position and number of votes.

Retweeted everyone who mentioned the launch and replied to everyone's comments to get as much exposure as possible.

Results (launch day)

— Finished at #7

— 271 votes

— 780 uniques

— 30 customer trials started (+17 following launch)

— 3 days spent on prep/launch

 
Felix Wong: Product Hunt Launch

Most of the launches went great and brought Felix from $1000 to $2000 in sales within several hours.

This is Felix's tactics that he considers to be the main reason for his success.

Choose the distribution channel wisely. With VenturesList Felix was not sure where his audience (early entrepreneurs who need to gain knowledge of venture investment) was hanging out. He made a research, looked up the social media groups, accelerator programs, and communities, and chose 18 channels for storytelling, including IndieHackers, YC startup school, Product Hunt groups, and some active Slack groups.

Start marketing campaign 30 days prior to the launch. Use BuildInPublic framework to tell your story on the channels that you have chosen. What to talk about? Go through the most critical processes for the product creation: such as ideation, validation, wireframe, prototype, branding, waiting list, and marketing.

Update your progress on social media every week. Post screenshots.

Post launch announcement on all the platforms available. Felix usually publish on 8-10 channels including Twitter, Facebook groups, and some communities.

On the launch day it should be almost 24 hours work day. Publish content about launch every hour on all the platforms you can think of.

Being active on Product Hunt also helps a lot with launches. "Activity" doesn't mean starting discussions. Basically, if you support other founders' launches you have every reason to believe that they will support you at your launch.

 

Why do you need a Product Hunt launch in the first place? Especially, if like Felix, you have active engaging audience on social media? For several reasons:

— Not everyone is on Twitter or on LinkedIn. But if people are passionate about startups and tech they are definitely on Product Hunt.

— Product Hunt provides a great SEO effect (that backlink, remember?)

— Product Hunt crowd is much more eager to buy than your followers on social media.

 

If you don't have a strong social following, you need several things to be successful on Product Hunt: — Great product

— Right audience

— Carefully chosen message distribution channels

 
TweetHunter: Product Hunt Launch

Thomas Jacquesson launched TweetHunter on Product Hunt in October 2021.

The launch results:

#1 Product of the Day #2 Product of the Week 1764 visitors 171 sign ups

 

What helped TweetHunter's team achieve these amazing results?

Launch 'dummy' products.

Failing your main product's launch is the worst. TweetHunter's team made three small launches before the main one to polish their tactics. The first launch they made got 7 upvotes altogether. The last one — 1154. That's a long way to go! Launching free products also helped to build audience and create a great email list. After 3 launches the team had a list of 7K users they could reach out directly and ask for support.

 

Send emails

On launch day TweetHunter team sent out emails to that 7K emails they have collected due to the previous launches.

 

Spacing out communication in time.

Not all the emails went out at once. They split the list into several groups. Group 1 received the email early in the morning. Group 2 — 3 hours later. Group 3 — 6 hours later, etc. This way TweetHunters made sure they product always had a "fresh" traffic and a portion of upvotes.

 

Built communications on Twitter. DMed influencers of all sorts — those who followed them, and those who did not — providing a link to a tweet with the launch announcement.

 

Did a couple Reddit posts on r/SideProject and r/ProductHunters. They worked well and sent traffic to Product Hunt page as well.

Covered 3 time zones. Getting initial traction on PH is actually quite easy for most makers with a decent audience. It gets hard when you have to go to sleep and can't do anything else. That's why TweetHunter's team divided their efforts: three co-founders changed each other covering all 24 hours of the launch day.

 

Optimised the Product Hunt product page for the main goal, which was more sign ups. Therefore:

an attractive offer (read further)

The page prompted visitors to learn more about the product as they go to the next step.

 

Optimised PH product page for Product Hunt audience.

 

Tweet Hunter can be used by pretty much anyone.

But who's on Product Hunt?

— Founders. — Makers. — Indie hackers.

What was an attractive offer?

$1 for the 1st month. Get to try product for dirt cheap and decide later to keep it or not. Win-win.

 

Get that PH badge on your website. NOT putting it on the page is a big mistake. People go to landing, check it out and want to get back to upvote — make this move for them frictionless, place a badge with a link.
Valentin Hinov: LinkedIn Launch

Valentin Hinov, a founder of

Thankbox

— a service that allows to send group cards and celebrate something as a team online — launched his product on LinkedIn.

— My audience is not on Twitter, or IndieHackers, or HackersNews. I target CEO assistants who have this assignment from their bosses — to get a card and get everyone sign it. I target HR managers who are responsible for this "internal communications activities". These people are mostly on LinkedIn, Facebook an Instagram. —

Valentin's advice: be very meticulous with your audience search and where you can reach out to them. He recalls how he posted the Thankbox idea on Twitter and everyone who engaged with his post discouraged him from building it. "I would never pay for such service" "Cards? Are you kidding? I hate them! Would never go for it"

"Don't go down this rabbit hole! This is a solution that will be looking for it's problem"

Those were the most frequent comments from indie founders community.

Valentin moved his product-related activities to LinkedIn. And the response was the opposite: HR managers from the companies he had worked for reached out to him in DMs and pleaded to notify them when the product is ready.

 

— In general, I recommend everyone not to disregard LinkedIn. It's a general attitude I see from people on Twitter that LinkedIn doesn't worth your attention. But I can tell you with 100% certainty: professional community, tech community of developers and engineers, all my friends here, in Scotland, everyone I know — they are all on LinkedIn and pretty active. They visit Twitter once a month and never post anything there. When you are active on Twitter, you love in this information bubble that creates an impression that the whole world is here. But it is not how it is. Most people are active on other social media. And if your target customers are not indie founders definitely give LinkedIn and Facebook a try.

 

Here are the top 5 great features of LinkedIn that makes it a good platform for product launches:

LinkedIn favours existing connections. If you like something or comment on something all your network will see it. It will pop up in other people timelines organically. Therefore, if one person from your target audience likes and comments under the post about the product all their network will get exposed to this post. You can't get this result on Facebook or Twitter.

LinkedIn has several very tight communities, like sales managers, HR professionals, recruiters. They are all well-connected. If you reach one, you get access to all their networks.

LinkedIn has professional groups and they are much easier to get in than Facebook groups. Many of them are very active, and they don't ban careful self-promotion, like Reddit does.

LinkedIn helps you utilise existing connections and relationships you've been building with people all your life.

LinkedIn, like any other platform, has priorities for specific content and algorithms. If you figure out how they work and create content that ranks you can reach hundreds thousands of people.

 

How to launch a product on LinkedIn: Valentin Hinov's Guide

Post regularly about your idea and your progress for about a month before the launch.

Use the connections you already have but also explore opportunities to get into local groups or professional groups beforehand. Getting there and jumping into promotion of your newly launched product is not the best strategy. Get into groups and be helpful, interact with people there.

Activate your own connections prior to the launch — you have to gain a certain level of engagement in advance, otherwise your launch announcements would be cries into the void.

Use DMs. A lot. Ask people of their opinion. Ask their advice on promotion. Ask them to introduce you to someone. Let people have ownership in your success. They will be much more eager to support you on the launch day.

On the launch day notify everyone you've been interacting with in DMs and ask for their support. Go to groups you've been active and post there a link to your product. Probably a discount might help but as Thankbox belongs to low price range category, there's no recurring revenue, just a one-time purchase it made no sense to offer some long-term deals or referral codes, or discounts. Still, it went great.

After launch post a lot about your success. LinkedIn loves this type of content and it might very well go viral, bringing you more customers.
Ana Bibikova: Launch of an info-product on Twitter

Timing

— 3 full weeks putting together the product

— 1 week — reaching out to founders featured in the Playbook and asking for their feedback in DMs on Twitter

— 3 days to set up (more on it later)

Altogether — 5 weeks

Promo

— At the time of lunch Ana had 1K followers on Twitter. She used only Twitter to announce the launch. Before the launch she made 4 threads and several short tweets, tagging some of the founders who are featured in the Playbook.

— She doubled down on the reminders about the launch during the last 7 days before the launch

— The most engaging tweet was the one where Ana asked the community to provide advice on the launch (created an Endowment bias). This tweet received >200K impressions.

Final check (the set up)

— Set up email automation with ConvertKit (sends out thank you email and an email requesting to rate the product, sent in 10 days after the first one)

— Went over the Info-product launch checklist

Launch Day

— Priced the Playbook $29 and offered a $19 discount on Twitter for everyone who RT the launch announcement

— Gave away 98 codes

— Got 200 new followers in 24 hours

— Got 41 sales within the first 24 hours ($898)

 

The pricing

Ana explains her logic about pricing and discounts.

— There were many who advised me to arrange a giveaway on Twitter, Reddit and LinkedIn with the goal to recruit everyone who's got a free copy to support a big launch on Product Hunt later. However, I chose not to do it. I presumed that people when they get something for free are not very eager to jump right in and start using it. They don't feel committed because there's no value for them in the product they received without any effort. Therefore, I won't be able to ask them to support my launch — because they would never actually read the playbook. In contrast, I priced the product pretty high for the launch day: $29 a copy. As a result, everyone who bought it, started using the playbook straight away and in 24 hours I started getting positive feedback. People started sending me messages sharing their excitement. If I priced the playbook lower they might have never gotten to using it.
Further Reading:
Sign up for our Premium Plan to get access to a Product Hunt Launch scheduler (day-by-day activities plan), DMs and emails templates